Yesterday's books were made into today's creative decorations at the weekend. The Regent Theatre held a workshop on Saturday to teach crafters how to make art out of unwanted books.
The theatre will hold its book sale on June 8 and 9.
Theatre trust intern Matthias Schorer said the organisers knew from past sales which donated books would not sell, even for $1, so they decided to turn them into art.
Participants folded and cut the books into imaginative ornaments.
The works will be sold at the sale and 25% of proceeds will go to the theatre and 75% to the artists.
About 50 people wanted to attend the workshop, but they were only able to take 38, he said.
The class was taken by artist Cathy Fitzsimons, who only "very recently" learned the craft.
"You have to make the art make sense with the book.
"You're using the book to support the art."
Participant Amanda Flaws, of Dunedin, said when she began she had no idea whether she could make art in the way the instructor did.
"But it's actually quite simple. It's almost mathematical."
jono.edwards@odt.co.nz
ORIGINAL STORY IN ODT 15 May 2018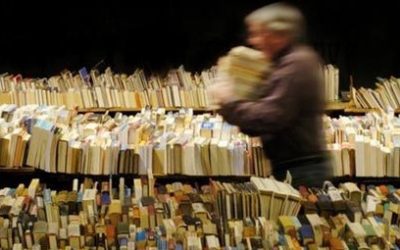 11 April 2022The Regent Theatre's Red setting book sale has been branded a big success by organisers after it came close to setting a record total for funds raised. Sale co-ordinator Alison Cunningham said the sale raised a total of $114,892 for the theatre, and the...

17 The Octagon, Dunedin
Otago, New Zealand
PO Box 5036, Dunedin, 9058
Mon-Fri 9am - 5.30pm
Sat 10.30am - 1pm
Box office is also open one hour before shows