The spectacular Christmas tree in the Regent Theatre foyer has special significance this year.
The theatre recently bought 100 Farmers Collectable Hospice Baubles, as part of an annual fundraising campaign in support of hospices around New Zealand.
Farmers in Dunedin and Oamaru have set up a remembrance tree and everyone who makes a donation to hospice in-store receives a remembrance card to write a special message for someone they will be thinking about this Christmas.
Collectable hospice baubles are also available for sale as part of the campaign, with 100% of bauble sales in Dunedin and Oamaru donated to the Otago Community Hospice.
Regent Theatre general manager Sarah Anderson said the theatre was ''happy to support such an important organisation — one charity to another''.
''The decorations are a beautiful addition to our tree, something we enjoy sharing with our audiences,'' she said.
This year's collectable bauble was designed by Maori artist Spencer Bellas, and depicts the ngaru, or wave, representing the journey of life.
Otago Community Hospice chief executive Ginny Green was delighted to have the support of Farmers this Christmas and in past years.
''Over the past five years the Christmas fundraising with Farmers has raised $3.4 million for hospices throughout the country, and in Dunedin and Oamaru the campaign has contributed close to $40,000 to the fundraising target for the last two years,'' Ms Green said.
''The staff in Dunedin and Oamaru are amazingly supportive of this campaign, and really go over and above to fundraise for us.
''It's an incredible effort at the end of a long year, and all of us here at hospice take our hats off to the Farmers teams — they do an incredible job,'' she said.
The hand-painted collectable baubles are available online, and in the Farmers stores nationwide, until Christmas Eve.
Brenda Harwood, The Star 21 November 2019
Photograph by Belinda Middlemass, Regent Theatre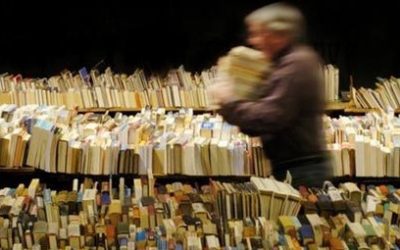 11 April 2022The Regent Theatre's Red setting book sale has been branded a big success by organisers after it came close to setting a record total for funds raised. Sale co-ordinator Alison Cunningham said the sale raised a total of $114,892 for the theatre, and the...

17 The Octagon, Dunedin
Otago, New Zealand
PO Box 5036, Dunedin, 9058
Mon-Fri 9am - 5.30pm
Sat 10.30am - 1pm
Box office is also open one hour before shows