Next year's iD Dunedin Fashion Week shows will be held in the city's historic Regent Theatre.
The opening iD Emerging Designer Show and the runway Dunedin Designer Fashion shows will both be held in the theatre, on what will be the event's 20th anniversary.
iD Fashion Week runs from March 11 to 17, and will feature some new initiatives along with the new venue, which remain under wraps.
The Regent Theatre director Sarah Anderson said it was a perfect partnership.
"The Regent Theatre is a beautiful venue – it offers the grandeur of the past with modern facilities, making it the perfect backdrop for today's contemporary designers."
iD Dunedin Fashion Week chairwoman Margo Barton said iD attendees would be wowed by both the surrounds and the fashion.
"The Regent Theatre will be utilised in innovative and unexpected ways as designers from across the globe descend on Dunedin to show their creations."
The Regent Theatre partnership announcement comes as New Zealand Fashion Week is held in Auckland, including for the first time an iD Dunedin showcase on Saturday.
The sold-out show features archival pieces from the iD International Emerging Designer Awards, alongside a mash-up of Dunedin designers including NOM*d, Carlson, Mild-Red, Lapin and Darlene Gore.
A limited number of premium pre-release tickets for next year's shows will be available for sale from Ticket Direct from this Friday until Tuesday, September 4 using the pre-sale code id2019.
Otago Daily Times
29 August 2018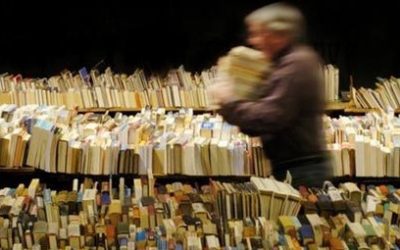 11 April 2022The Regent Theatre's Red setting book sale has been branded a big success by organisers after it came close to setting a record total for funds raised. Sale co-ordinator Alison Cunningham said the sale raised a total of $114,892 for the theatre, and the...

17 The Octagon, Dunedin
Otago, New Zealand
PO Box 5036, Dunedin, 9058
Mon-Fri 9am - 5.30pm
Sat 10.30am - 1pm
Box office is also open one hour before shows