Nominations for the position of Board Member of the Regent Theatre Trust of Otago closed on Thursday 10 October.
Nominations were received for the following nine people. The Trust's constitution allows for between 5 and 9 elected Board members, and an election is required at the AGM only in the event that more than 9 nominations are received.
The Trust also has a voting position on the Board for the DCC, currently held by Dave Cull.
Anglin, Jennifer
My family and I emigrated to Dunedin fifteen years ago. We love the small town feel—where you run into people you know everywhere but that it is also a sophisticated, dynamic and vibrant city with lots to offer.
My professional career has been in marketing, publishing, retail and small business ownership and I have a business master's degree in Entrepreneurship from Otago. For a decade, I owned one of the largest independent children's bookstore in the US, which developed award-winning programming and had its' own in-house theatre company, writing original productions and adaptations. I now own an internet sales-based cupcake company and volunteer as an archivist and fundraiser.
As a member of the current Regent Board of Trustees, I helped organise the "Books as Art" Exhibition and Sale and the "Peter Sellers Collection" sale and online auction as part of 24 Hour Book Sale. I have over thirty years in fundraising experience, creating successful events. I have been on numerous local, national, international boards and advisory committees. I love to plan things and am very good at creating something memorable, entertaining and financially rewarding on a shoestring budget. I truly enjoy theatre from big productions to one person readings and am often in a balcony seat, enthusiastically applauding. I would very much like to continue to help the Regent with its' future.
Atkinson, Russell
My 40 years of governance and management experience includes being appointed a foundation trustee of two charitable trusts, former Associate of the NZ Institute of Management; and
School principal, leading 30+ teaching and ancillary staff; and then subsequently Board of Trustees chairperson; governance mentor for Boards of Trustees; performance appraisal of school principals
Ambulance Station Officer-in-charge; National Education coordinator – NZ Institute of Ambulance Officers;
Member of NZ Qualifications Authority Ambulance Advisory Board; International Scholarship
Justice of the Peace– Registrar (Executive Officer) Otago JP Assn; Judicial Court Panel Manager (Dunedin, Queenstown, Alexandra); Education Officer
Regent Theatre Trust of Otago – Executive/Board member since 2006; Deputy Chair 2016-19; book collector and sorter, booksale helper, doorman/usher.
I look forward to continuing to serve as a member of the Board and am committed to working with and supporting the Director and staff to maintain, enhance and promote our "premier performance venue".
Billinghurst, Karen
I am an experienced commercial lawyer, having worked as an in-house lawyer within the legal teams of large, complex organisations in New Zealand and the UK across the public and private sectors. I currently work at the Southern District Health Board. I am the convenor of the Otago Women Lawyers Society for 2019 and a current member of the Institute of Directors.
I have a lifelong interest and involvement in arts and music starting with playing trumpet and piano through my school years, and I participated (with mixed success) in university revue shows. I once persevered through an adult learn-to-tap dance class… My daughters have so far shown interest in recorder, singing, ukulele and trumpet. I am on the Arts Festival Dunedin board and am keen to continue the great work done by the Regent Theatre management and team, to ensure the live experience is "brought alive" to as many people as possible.
Cunningham, Alison
I hope you will support me to continue to serve the Trust as a Board Member.
At the Regent Theatre I have been an usher, door person, Board and Executive member, casual box office person and, for the last nine years, organizer of the Book Sale. As a Board member for the last ten years I have been involved with many of the initiatives that have contributed to the Theatre's present excellent performance and the Trust's sound footing for the future. I believe I have a good understanding of how all aspects of the Theatre and its people work, and I hope I demonstrate strong working relationships with both staff and volunteers. And, of course, I am honoured to enjoy the friendship of many Friends!
The Regent is an institution treasured by generations of Dunedin arts lovers, and I would love to continue to play my part alongside all the Otago people who have helped make the theatre the magical place it is today.
Forbes, Lawrie
Hello. Thank you for allowing me to be on your Trust Board this last year. This past year of being involved with the board meetings has caused me to think very carefully when decisions are being made, just as I do in decisions with my own company's governance.
Unfortunately my involvement with the theatre is only on the board as there is no time left in my schedule at present and in the imminent future.
I have come to see more clearly and realize the massive input so many of you give. I really respect the volunteers and friends for their work. I would also like to thank the other board members, the chair and the director's guidance and information at board meetings when making decisions on your behalf. I am making myself available again this year for board selection and would be honoured to be on your board again.
Gibson, Garry
I, Garry Gibson, am standing for the new Board of the Regent Theatre.
I have been involved with the Theatre since about 1987. During that time I have been on the Executive for approximately 16+ years.
I am myself, a person with hands on experience and practical knowledge of how the mechanics of a theatre works in the technical/backstage areas.
As a sitting board member, I feel I can still bring my knowledge of the above to the new Board. I consider knowledge on how the workings of a theatre behind the scenes and in governance do go hand in hand, and are useful in running the Theatre Trust.
Newell, Damian
I work as a morning broadcaster in local radio, and consider I am in touch with the issues and the community's vision of this great small city. I have enjoyed twenty years in marketing and promotion in my role as Breakfast Host on the number one rating MOREFM. I consider myself and excellent communicator and negotiator.
I joined the Board of the Regent Theatre last year and believe I have the necessary skills, qualities and contacts to make the most of my involvement for the benefit of the Trust and the future of the theatre.
I am a fiercely competitive and results driven person but believe strongly in my principles and values of honesty, integrity and kindness.
My partner and I have three wonderful children with all the joys and trials that entails and are all very passionate about calling Dunedin our home. In my spare time I enjoy multisport and endurance events such as the Otago Central Rail Trail Duathlon and the Kepler Challenge. I also enjoy diving, kite surfing and snowboarding when time avails.
Wallace, Kathleen
I have been a volunteer of the Regent Theatre for the last 21 years as a book sorter, and from 2011 as the convenor of the Anything But Books sale. I also worked on the bar for 12 years.
I appreciate all the hard work of our volunteers, also I would like to personally thank them for all the help they have given us at the sales.
If re-elected to the Board of Trustees I will work as hard as I have in the past.
Wharepapa, Kylie
I have been fortunate to work closely with the Regent Theatre in an accounting and advisory role for a number of years during my time as a Manager at PwC, and would love the opportunity to be involved with the Regent once again.
With nearly 20 years of experience as a Chartered Accountant, including in my current role as Finance Manager at NHNZ, I have the financial knowledge and experience necessary to help ensure that the Regent Theatre Trust remains in the healthy position that it is currently in.
I understand and appreciate very well that the Regent is a hugely important asset to our community, providing fantastic cultural experiences in a truly beautiful venue – made even more amazing with the facility upgrades that have taken place over the past year! The importance of the Regent to so many is evidenced by all of the wonderful volunteers who generously contribute their time to allow the Regent to keep providing top-class experiences to the people of Dunedin.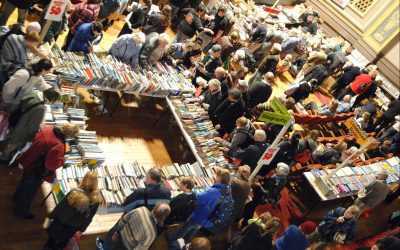 10 June 2019Dunedin's biggest book sale collected its second-largest haul in 39 years at the weekend.The Star Regent Theatre 24 Hour Book Sale finished at noon on Saturday. Hordes of people tackled the 2500 cartons of books and spent $85,755, which was nearly $10,000...

PO Box 5036, Dunedin, 9058
Mon-Fri 9am - 5.30pm
Sat 10.30am - 1pm
Box office is also open one hour before shows